Numerous investors and speculators are anticipating this event and the general interest is at an all-time high, as evidenced by the rapidly increasing google searches for the term "Bitcoin halving Bitcoin halving is when the amount of new bitcoin created and earned by miners is cut in half. However, it is not yet clear what effect this event will have on the price, due to the bleak economic climate.
Well-known trader @TheCryptoDog made an interesting inquiry on Twitter about the possibility of the halving being priced in:
As stated previously, the Bitcoin halving is projected to occur on 12th May. Below, we will take a closer look at the BTC price movement and compare it with the previous two halvings in order to see if any similarities arise that can help us determine if the event is priced in.

Also see: Will Bitcoin survive the pandemic?
RSI Comparisons
The previous two Bitcoin halvings occurred on 26th November, 2012, and 11th July, 2016.
During the first event, the high was reached 105 days prior to halving. On that date, the weekly RSI briefly went into overbought levels before dropping sharply.
Similarly, the RSI jumped to overbought levels during the top prior to the second halving. However, this top was reached only 28 days prior to the first event. Similarly, both the price and the RSI decreased after this top. However, unlike the first halving, the decrease continued well after the event — with the price reaching a low several weeks afterward.
In the current movement, the most recent high has been that of $10,504 reached on 7th February, 2020. If the halving occurs on 12th May, the top would be 98 days prior to the event.
However, the current movement is quite dissimilar to the first two:
First, the aforementioned high was not combined with an overbought RSI value.
In addition, the Bitcoin price was subject to a very sharp drop of more than 50 percent soon after reaching the February high — which was not the case during the previous to events.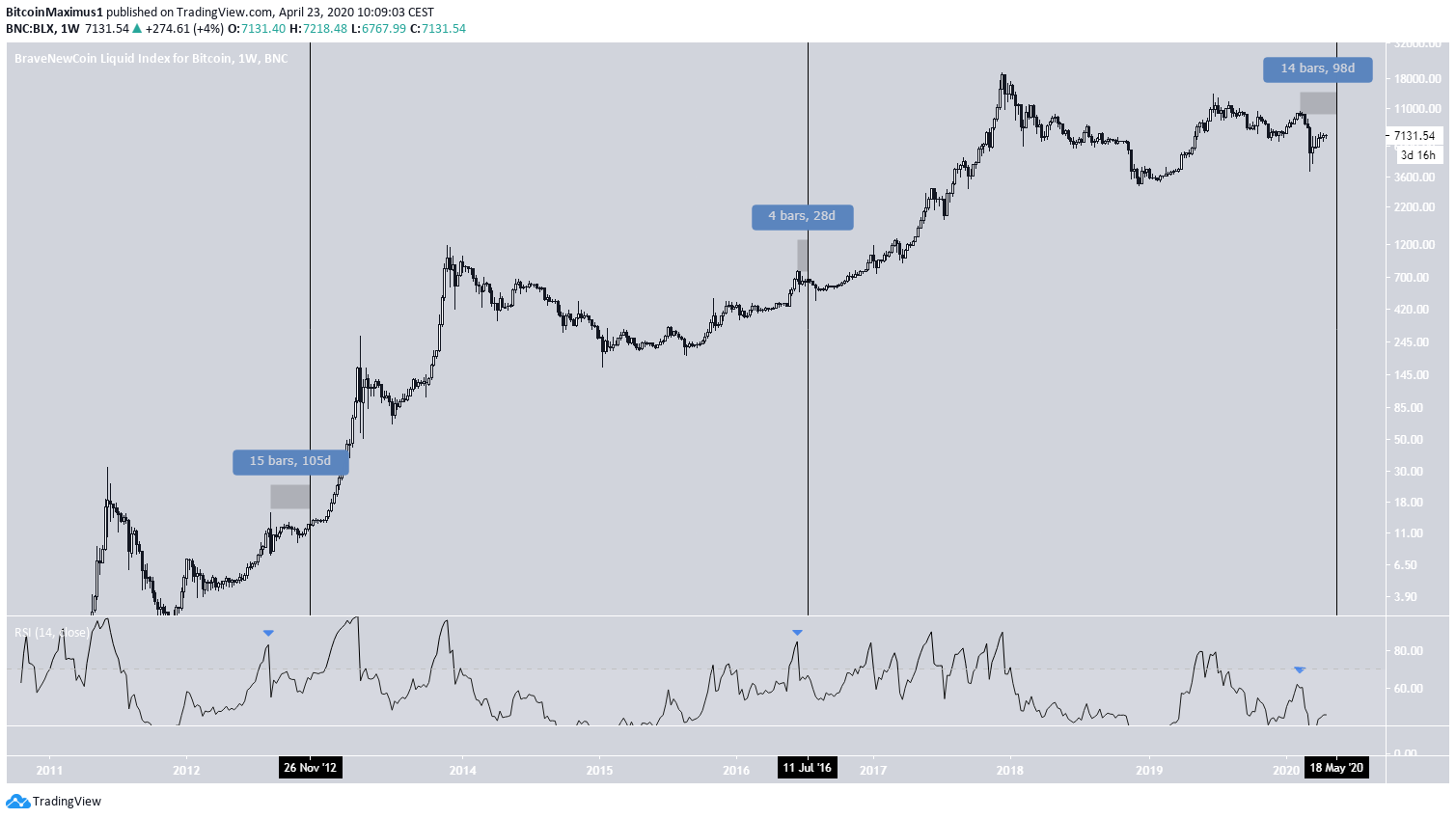 Bitcoin Chart By Trading View
While the sample size of only three events is not sufficient to make predictions, the price movement and RSI readings of the third Bitcoin halving are quite dissimilar to the first two. The dates for the first two halvings and the projected date for the third one are shown with vertical lines in the graph above.
If you are new to the Cryptocurrency world and would like to open an account we recommend Cex.io.
Do you find this article useful? Comment below or follow us on Facebook or Twitter.