TRX failed at gaining traction on Saturday, and continued trading largely in line with the broader crypto market over the weekend.
At pixel time (11:51 UTC), TRX, ranked 18th by market capitalisation on coinpaprika.com, trades at USD 0.0144 and is down by more than 4% in a day after it was hit by a wave of selling on Sunday, along with the rest of the market. The total crypto market capitalization dropped by 3.6% today. Over the past 7 days, TRX is down by almost 5%, trimming its monthly gains to less than 3%. TRX lost more than half of its value in a year.
TRX price chart: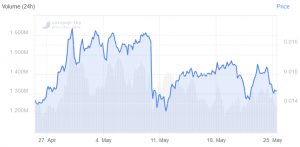 Source: coinpaprika.com
The latest round of attention for Tron started this past Saturday when Justin Sun announced on Twitter that "TRON 4.0 is coming!" while mentioning "Privacy, blockchain interoperability, high scalability, and enterprise applications" as cornerstones of the new upgrade, and leaving decentralisation aside.
Later the same day, Sun followed up by posting a poll on Twitter where followers were asked which one they believed is better of Tron 4.0 and Ethereum 2.0.
Advertisement

Ethereum 2.0 led the race for a while, with approximately 70% voting for it and 30% voting for Tron, according to screenshots shared by other Twitter users. A few hours later, however, the poll results had changed to 60% and 40% in favour of Tron, the same screenshots showed, with several users suggesting that Sun had bought the votes to manipulate the poll in his favour.
One twitter use replied by saying "It looks like Justin Sun bought Twitter votes to sway the poll. Last night this poll had 20,000 votes with ETH 70%; TRON 30%. 8 hours later, with 40,000 total votes, Tron is now 60% and ETH is only 40%?? How did the sentiment reverse literally overnight?"

Also see: What is Tron (TRX)?